"Even at this moment when such great sacrifice is demanded of us,
we look to a better future with optimism"
-President Cyril Ramaphosa-
Coronavirus has had a devastating impact not only on South Africa but on the global economy. Richen Attorneys is stringently following the advice of the South African Government and the World Heath Organisation, to ensure the safety of our staff and our clients.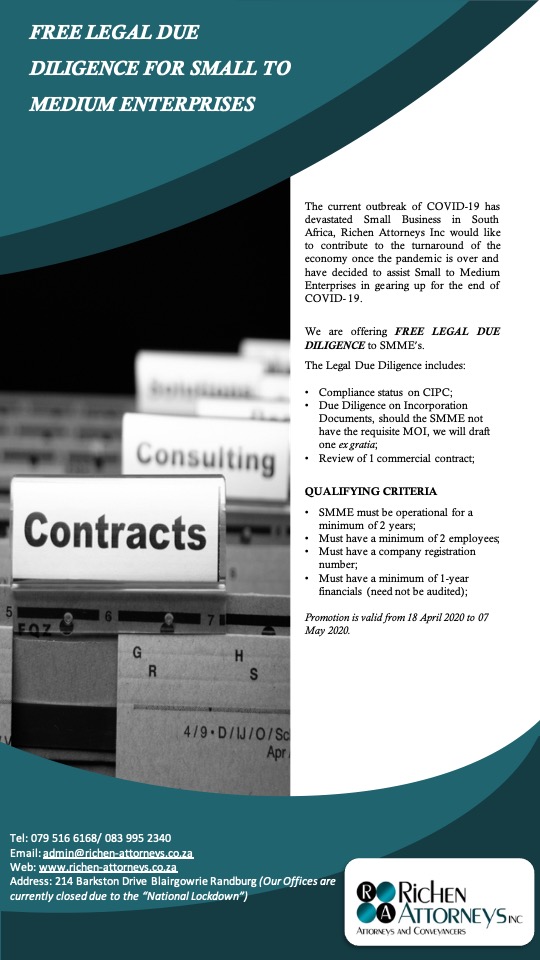 Website Links for Relief Funding:
Small Enterprise Finance Agency (SEFA)
Debt Relief Finance Scheme:
https://www.fasa.co.za/corona/SMME-Debt-Relief-Scheme.pdf
SEFA application form:
https://www.fasa.co.za/corona/Guidelines-for-Debt-Relief-Application.pdf
Industrial Development Corporation (IDC)
https://www.idc.co.za/2020/03/24/idc-interventions-in-response-to-covid-19/
National Empowerment Fund (NEF)
https://www.investcapetown.com/nef-to-manage-r200-mil-covid-19-intervation-fund-with-the-dti/
DTI Financial Schemes
http://www.thedti.gov.za/financial_assistance/financial_assistance.jsp
Department of Small Business Development
Solidarity Response Fund
South African Future Trust (SAFT)_ Oppenheimer
Department of Tourism (Sector Relief)
Department of Sports, Arts and Culture (Sector Relief)
"Richen Attorneys Inc is in no way affiliated with any of these Government Funding Initiatives, these links are posted on our website purely for informational purposes."